The Overwhelming Evidence in support of Creation vs Evolution
Secular Study: No Big Bang?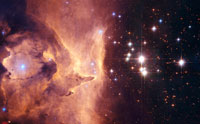 Christians who believe the universe began billions of years ago often point to the Big Bang model to try and verify a creation-like beginning. But a new origin of the universe model offers an "everlasting universe" and dismisses the whole idea of a Big Bang. Why would scientists even think to challenge a long-held concept like the Big Bang unless they saw some deal-breaking weaknesses in it? More...