The Overwhelming Evidence in support of Creation vs Evolution
A New Planet from Cosmic Dust?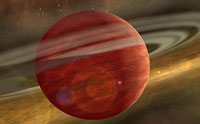 The discovery of planets around distant stars isn't new. Roughly 2,000 exoplanets are confirmed to exist. But astronomers claim to have direct evidence that a giant planet is in the process of forming. How strong is this claim? More...